Vale Marian Pawlik OAM
July 31, 2020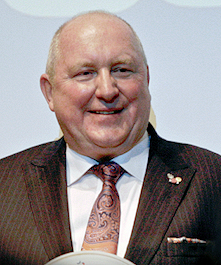 It was with great sorrow that we learned of the passing of Marian Pawlik OAM, President of the Polish Community Council of Victoria and great friend of the Australian Society of Polish Jews & Their Descendants.

Born in Łódż in 1954, Marian sadly passed away today, in Melbourne, on 31st July 2020.
Albert Einstein said, "The value of a man should be seen in what he gives and not what he is able to receive".
Marian Pawlik gave much to many good causes. He believed in the value of cooperation and mutual respect between people and was extremely supportive of the ASPJ's mission of bringing Australia's Polish and Jewish communities closer together.
For over ten years, we have known and worked together with Marian. He was generous in sharing his knowlege, expertise and skill, and was committed to carrying out whatever work that was needed. His presence amongst us will be sorely missed. But, into the future, we will continue to fulfill our joint vision and will always remember his valuable contribution.
We express our sincere condolences to his family and, in accordance with Jewish tradition, we wish them all long life.
Rest in peace Marian. Shalom chaver! May your memory be a blessing to all who knew you.