Vale Moshe Fiszman z"l (1921-2019)
May 15, 2019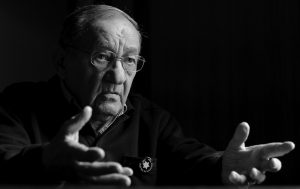 It is with immense sadness that we mourn the passing of Moshe Fiszman z"l – Holocaust Survivor – a founding and, until his passing, continuing member of the Board of Management of the Australian Society of Polish Jews & Their Descendants.
Moshe was born in Radom, Poland, in 1921. Apart from one brother, he lost his entire family during the Holocaust. He survived numerous concentration camps and several death marches.
When our organisation was founded and over the years, at our Board meetings, Moshe was the voice of experience and wise counsel.
Among his numerous passions was education – educating the young generation against the consequences of hate. As a Survivor Guide for Melbourne's Jewish Holocaust & Research Centre, literally thousands of school students, university students, politicians and others have, over many years, listened to Moshe's animated and articulate description of his own Holocaust experiences
Despite his advanced years, Moshe's mind was as sharp as ever. He was immensely widely-read and could recite, from memory, great swathes of Polish and Yiddish poetry and other literature in an animated and almost theatrical style – his recitations were such that once witnessed, never forgotten.
Together with his wife Franka and his two daughters, Anna and Lena, we mourn the passing our ASPJ Board Member and friend.
We have truly lost an icon of the Melbourne Jewish community.
May his memory be a blessing to his family and to all whose lives he touched.
[Webmaster: We have invited Moshe's daughters, Anna and Lena, to provide material for a permanent tribute page on this website,
honouring the memory of their father. That page will appear in due course.]