Vale David Prince z"l (1925-2022)
September 1, 2022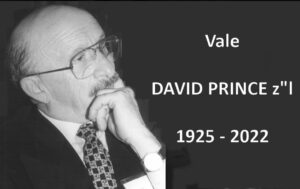 It is with immense sadness that we mourn the passing of David Prince z"l – Holocaust Survivor – a founding and, until his passing, continuing member of the Board of Management of the Australian Society of Polish Jews & Their Descendants.
We invited his daughter, Frances Prince, to write a tribute to her late father on behalf of his family.
Frances Prince writes:
David Prince passed away in the early hours of Monday, 28th March 2022, with both his adult children (my older brother Issy and myself) by his side. This was a few weeks before what would have been his 97th birthday.
David was an inaugural Board Member of the ASPJ. He felt honoured to have been approached to join the organisation. He sincerely believed in its aims and aspirations.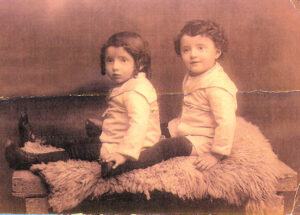 Dad was born in Łódź, Poland, to Frymet Chaya (nee Klejnbaum) and Israel Princ. He, and his twin brother, Heniek, were born during Pesach/Passover, 1925.
They enjoyed a lower-middle class, family-oriented childhood in the heart of Jewish Łódź. In David's words, "What were kids doing? Hanging around other kids, skating in winter, soccer in summer, running 400 metre and 800 metre races, indoor gym, chatting up girls."
His primary education was undertaken at the Fajnhaus School at ul. Zawadska 26 and No. 123 State School 123 ul. Wolczańska 21. His one precious year of secondary education took place at the Szwajcer School. In my many conversations with Dad about his childhood and identity, he was always clear that his Jewish and Polish identities sat side-by side comfortably.
As he said, "Polish is my first language. It's my mother tongue. We spoke Polish at home. But my grandparents spoke Yiddish to us. At school, I learnt Polish history, Polish literature, Polish geography. The books which I read as a child were all in Polish. It was a normal part of my life. Polish and Jewish – Jewish and Polish. That's just how it was."
On 1st September 1939, this carefree childhood ended. David was fourteen years old.  Within weeks of the German invasion of Poland, David, together with all the Jews of Łódź, was subjected to a slew of anti-Jewish laws and the enforced wearing of the blue armband and then, later, the yellow star.
When the Łódź (Litzmannstadt) Ghetto was formed, Frymet Chaya, Israel, Heniek and Dad moved into the ghetto's designated borders in Baluty. They lived with Dad's youngest aunt, Mala and her husband, Salek. As Dad would describe, "It was the oldest, poorest, shabbiest, and the unsewered part of town."
Dad and his family were incarcerated in the Łódź Ghetto from the day it was "closed", 1st May 1940 until the end of August 1944. They experienced forced labour, diminishing food supplies, unhygienic living conditions, resultant disease, and on-going violence. The transportations to the Chełno death camp claimed countless family members and friends.
Frymet Chaya, Israel, Heniek and Dad were pushed onto the very last train that left the Łódź Ghetto, the last ghetto in Europe, bound for Auschwitz-Birkenau. Upon their brutal arrival, Frymet Chaya was viciously separated from Israel, Heniek and Dad. Dad would say, "It all happened so quickly. There was no time for a motherly kiss or hug goodbye."
After one week in Auschwitz-Birkenau, Israel, Heniek and David were placed on a train to a slave labour camp called Friedland. There, they made propeller parts for the German air force. On 8th May 1945, they were liberated.
The immediate years after the war saw Dad living in Munich as a university student, studying pharmacy. How Dad ever passed the entrance exams to the Ludwig Maximillian University- with his one year of high school education – confounded him for the rest of his life. As he often said, "How could I have ever aspired to such a thing as a university education?"
Unbeknownst to him, another survivor from Poland, Ella Salzberg, was undergoing the same grueling study regime in order to gain entrance to the same university. Dad, the pharmacy student met Mum, the dentistry student, at the Jewish Students Cafeteria. They married on 23rd December 1947.
Mum and Dad immigrated to Australia in January 1950.
Dad worked as a fitter and turner, on a lathe, in factories. This was a skill he learned in the Łódź Ghetto. His German pharmacy degree was not recognised in Australia and they did not have the finances for him to return to university. Through determination, perseverance, and hard work, Dad went back to university in the mid-1950's to study pharmacy. He was ten years older than the rest of the students, with a wife and child, my brother, Issy. When Dad graduated, I was born.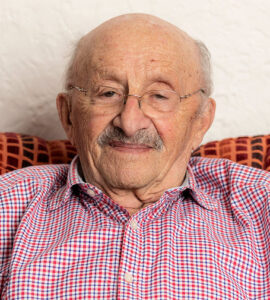 Throughout the decades, Mum and Dad focused on building his professional, pharmacy career and on raising Issy and me. They created a loving Jewish home for the two of us. Our well- being was their priority.
Dad had a love of life and energy levels to be admired and emulated. He liked to engage with all those around him, no matter what age or generation. Always the life of the party.
His interests and passions included Yiddishkeit, an appreciation of the State of Israel, loyalty in friendship, professional excellence, integrity, service to the community, having a sense of humour, pride in a job well-done and love of family.
May his memory be for a blessing
---