ASPJ Executive Members Meet New Australian Ambassador
August 1, 2019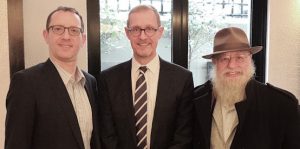 ASPJ Co-Presidents Bernard Korbman and Ezra May, together with  Co-Vice-President Izy Marmur, met today with the next Australian Ambassador to Poland, Lloyd Brodrick, prior to his departure for Warsaw.
Their discussions included several important Polish-Jewish issues., including the impact of some of these issues on the life of today's Jewish community in Poland.
Mr Brodrick is a senior career officer with the Department of Foreign Affairs and Trade. He was most recently Assistant Secretary, Budget Branch. He has previously served overseas as Acting Deputy Head of Mission, Australian Embassy, Baghdad; Deputy Head of Mission, Australian Embassy, The Hague; and Counsellor, Australian Permanent Mission to the United Nations, Geneva.
Mr Brodrick holds an Executive Master of Public Administration and a Bachelor of Laws from the Australian National University; and a Bachelor of Arts (Hons) from Macquarie University.
He replaces the outgoing Ambassador, Paul Wojciechowski, whose three-year term ends this year.