2021 "Henryk Sławik Award" Presentation
December 15, 2021
Melbourne, Australia
The Henryk Sławik Award is presented in honour of the spirit of the life and deeds of Henryk Sławik, (saving over thirty thousand lives in occupied Hungary, five thousand of those being Jews). The Board of Management of the ASPJ has decided to honour individuals who, or organisations which, have worked towards enhancing mutual respect and understanding between the Polish and Jewish communities.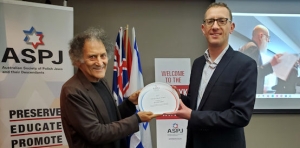 The recipient of the 2021 Henryk Sławik Award is:
Arnold Zable, writer, novelist, storyteller and human rights advocate.
Presentation of this year's award was at a COVID-safe event held at Melbourne's Beth Weizmann Jewish Community Centre,on Wednesday 15th December 2021, in front of an audience comprising of members of the Jewish and Polish communities. Many more were able to view the event live online.
Arnold Zable is the author of numerous short stories and novels in which he touches upon the issues of migrants, themes of historical memory, refugees and the Jewish diaspora. In speaking about Arnold, ASPJ Past President Bernard Korbman OAM, stated that Arnold embodied all that is best in a person and exemplified the perfect example of someone who works for justice, countering religious prejudices and the protection of human rights.

In addition to the presentation of this year's Sławik Award, the ASPJ Board of Management presented ASPJ Life Membership to two ASPJ foundation members and Past Presidents – Bernard Korbman OAM and Izydor Marmur OAM.
Since its foundation back in 2009, Bernard Korbman OAM has been the philosophical and spiritual driving force behind the Australian Society of Polish Jews & Their Descendants. It was his ideal and motivation that inspired the rebirth of a Polish-Jewish organisation after what had been a hiatus of more than twenty-five years.
For the past eleven years, Bernard has served the ASPJ as its Founding President, President, Co-President, Vice-President and Board member. However, he has felt that now was the right time for him to step down and allow others to take the reins.
Izydor Marmur OAM is one of the foundation members of the Australian Society of Polish Jews and Their Descendants. Since its foundation in 2009, Izy has served our organisation in many capacities, including as President, Vice-President and, until today, as Editor of the ASPJ's publication "Haynt".

He was a co-Instigator of the Friends of Poland Victorian Parliamentary Group. In 2014, he was presented with a Volunteer Award by Jewish Community Council of Victoria. Izydor, along with others, has been a driving force in bringing Victoria's Polish and Jewish communities closer together.
Click below to watch video highlights of the event: