2019 "Henryk Sławik Award" Presentation
December 4, 2019
Melbourne, Australia
The Henryk Sławik Award is presented in honour of the spirit of the life and deeds of Henryk Sławik, (saving over thirty thousand lives in occupied Hungary, five thousand of those being Jews). The Board of Management of the ASPJ has decided to honour individuals who, or organisations which, have worked towards enhancing mutual respect and understanding between the Polish and Jewish communities.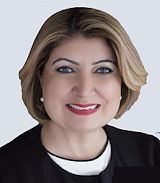 The recipient of the 2019 Henryk Sławik Award is:
Natalie Suleyman MP, Co-Convenor of the Victorian Parliamentary Friends of Poland.
Through her parliamentary and communal activities, Natalie has helped draw Victoria's Jewish and Polish communities closer together and have greatly added to the betterment of local Polish-Jewish relations.
On Wednesday 4th December 2019, at Melbourne's Beth Weizmann Jewish Community Centre, members of the Jewish and Polish communities, members of the Consular Corps and paliamentarians came together for the presentation of the ASPJ's 2019 Henryk Sławik Award to Natalie Suleyman MP, in recognition of her contribution to the betterment of Polish-Jewish relations.
In accepting the Award, Natalie warned of a threat to cultural diversity from the growing wave of diviseness sweeping the world. She stated that there would always be cultural differences, but that the key was for those differences to be respected.
As Co-Founder and Chair of the Parliamentary Friends of Poland group, he work with the Polish community of St. Albans had led her to become acquainted, through the ASPJ, with Victorian Jews who have a Polish background.
Prior to the presentation of this year's Sławik Award, the audience was treated to a presentation on last April's Women's Joint Journey to Jerusalem organised by Jewish Christian Muslim Association of Australia. The presentation was introduced by JCCV Board member Frances Prince who, in turn, introduced Journey participants Dr Ayesha Aijaz (Muslim), Elissa Roper (Christian) and Faye Haskin-Dubrowin (Jewish), who each spoke of the erperience from a personal perspective.